Our Services
Treatment services include psychotherapy, cognitive therapy, and comprehensive brain injury rehabilitation services.
► Our specialty is treating clients who have acquired brain injury reach their personal goals. For some clients, it's maximizing their cognitive functioning and living independently that encourages their participation in treatment. For others it's going to school to get additional training after a debilitating injury that motivates them. For most of our clients, it's returning to work that drives them to seek our services.
Project ReEntry Treatment Services
Project ReEntry is an outpatient, brain injury rehabilitation program located in the Galleria area of Houston. Our treatment services are individually tailored to each client and his/her personal goals. Dr. Pollock directs all Project ReEntry administrative and clinical treatment activities.
Our treatment staff consists of the Programs Director, the Clinical Neuropsychologist, the Treatment Team Leader, and Cognitive Therapists. Our staff assists clients in identifying and learning to utilize compensatory strategies to circumvent their cognitive deficit areas. Clients practice their treatment plan strategies by using various functional cognitive activities. After clients are proficient in the use of their compensatory techniques, they are ready to move on to the next phase of their treatment program. For some clients, this means a Job Trial. A Job Trial is a volunteer work situation set up by the Project ReEntry staff in a real-world work environment where a client can practice his/her specific strategies without the consequences or pressure of the real world. Our staff therapists accompany the client to the Job Trial to insure a smooth transition and to help the client generalize the cognitive compensatory strategies to his/her specific job duties. Other clients may skip the Job Trial phase of treatment and move directly into the Job Search phase of the program. Our staff assists the client with job readiness training, work adjustment training, and using multi-modal resources to search for employment. When employment is located and accepted, Project ReEntry then sends its therapists with the client, as in the Job Trial phase, to help the client make a smooth transition into the world of work. Our staff will stay with the client on the job for as much or as little as is necessary for the client to be able to work independently.
► Many clients are referred to us for "normal" psychological counseling issues such as depression, anxiety, and adjusting to a physical disability. Psychotherapy with a licensed, clinical psychologist can address these issues as well as various other psychological and emotional disorders.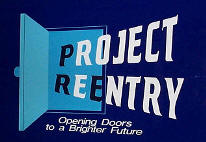 Larry Pollock, Ph.D.
Neuropsychologist/Owner
Russ Shanks, M.A.
Director of Rehab. Services
Tammy Thigpen, Ph.D.
Clinical Psychologist
Ashley Hausinger, B.S.
Treatment Team Leader
Cognitive Therapist
Erin Carlson-Stadler, B.A.
Cognitive Therapist